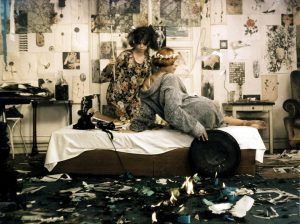 *** DEUTSCHE VERSION WEITER UNTEN ***
We're a group of (queer) feminist people who decided to organize a series of film making workshops. We will learn how to use a camera, how to edit, and share ideas of film theory. We see how filmmaking is highly professionalized and how it depends on capitalist means of production. We want to create a space with the possibility to learn the basics outside of the framework of academic institutions, where we all participate in sharing knowledge and not just consume information. Thats why we reject a division between experts and students. The workshops should follow the ideas of autonomous and non–hierarchical organisation because we perceive our practice as political empowerment and part of a feminist movement.
Themes of the first workshop:
– Film philosophy – Es Des
– Feminist theory of film – Ece W. Özdemir
– Script writing and dramaturgy – Marie Luise Lehner
We'll be there already at 11am to prepare some food, and we'd be really happy if some of you joined us!
The next workshop will take place on June 30.
We invite you all to join, and we're open to any proposals for
workshops. We want to keep it as an open process to all genders, to see how we can work together and maybe continue with further workshops, meetings and projects in the future.
If you have any question, just write us any time (queerfem_film@riseup.net), also if you would like to participate or if you feel you can contribute. This could be something about film or what kind of experiences you made while cutting videos…
The workshop will be translated into several languages.
We're looking forward to see you all very much!
In solidarity,
your queer-fem film gang 🙂
In collaboration with Düşekran
*** DEUTSCH ***
Liebe Freund_innen,
Wir sind eine Gruppe von (queer-) feministischen Menschen, die
beschlossen haben, eine Reihe von Filmworkshops zu organisieren. Wir werden lernen, wie man eine Kamera und ein Schnittprogramm benutzt und Ideen der Filmtheorie austauschen. Wir sehen, wie hoch professionalisiert das Filmemachen ist und wie es von kapitalistischen
Produktionsmitteln abhängt. Wir möchten einen Raum schaffen, in dem wir die Grundlagen außerhalb von akademischen Institutionen erlernt können, in dem wir alle am Wissensaustausch teilnehmen und nicht nur Informationen konsumieren. Deshalb lehnen wir eine Trennung zwischen Expert_innen und Schüler_innen ab. Die Workshops sollen den Ideen einer autonomen und nicht hierarchischen Organisierung folgen, da wir unsere Praxis als politisches Empowerment und Teil einer feministischen Bewegung betrachten.
Themen des ersten Workshops:
-Filmphilosophie – Es Des
-Feministische Filmtheorie – Ece W. Özdemir
-Drehbuch und Dramaturgie – Marie Luise Lehner
Wir werden bereits um 11 Uhr dort sein, um etwas zum Essen vorzubereiten und wűrden uns freuen wenn ihr auch dabei seid.
Der nächste Workshop findet am 30. Juni statt.
Wir laden euch alle zur Teilnahme ein und sind offen für Vorschläge. Wir möchten, dass dies ein offener Prozess für alle Gender ist, um zu sehen, wie wir zusammenarbeiten können, und vielleicht in Zukunft mit weiteren Workshops, Treffen und Projekten weitermachen wollen.
Bei Fragen könnt ihr uns gern anschrieben (queerfem_film@riseup.net) oder wenn ihr teilnehmen, sowie etwas beitragen möchtet. Dies kann etwas zum Film sein, oder was ihr für Erfahrungen mit dem Schneiden von Videos gemacht habt…
Der Workshop wird in mehrere Sprachen übersetzt werden.
Freuen uns schon sehr euch zu treffen!
Solidarische Grüße,
eure queer-fem Filmbande 🙂
In Zusammenarbeit mit Düşekran